Water purification industry information Home > Water purification industry information
Analysis of the market operation of China's water purification appliance industry in 2021
Views : 7 Update time : 2022-02-26 11:41:49 According to the total data from ogesz, the overall market sales of water appliances in my country will be 36.21 billion yuan in 2021, a year-on-year increase of 2.5%. yuan, an increase of 1.3% year-on-year, the scale of drinking machines was 2.08 billion yuan, an increase of 6.4% year-on-year, while the front-end water purification equipment was driven by consumption upgrades, and the growth was obvious. The water softener market size was 2.17 billion yuan, an increase of 39.8% year-on-year. The market size is 900 million yuan, a year-on-year increase of 8.6%. In 2022, the general environment of the water appliance market and the potential consumption demand mining still cannot be effectively improved. Oge Digital Network (ogesz) estimates that the overall water appliance market size in 2022 will be 36.86 billion yuan, a year-on-year increase of 1.8% driven by front-end water appliances. The water appliance market was 21.84 billion yuan, down 3.9% year-on-year, maintaining a trend of shrinking demand.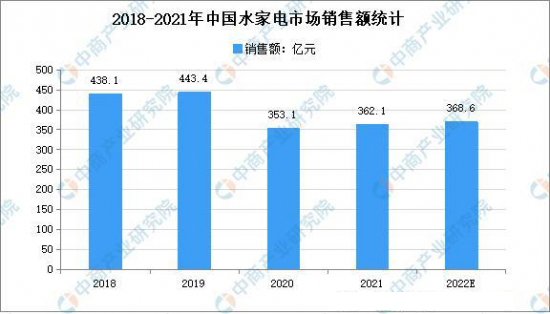 2018-2021 China's water appliance market sales statistics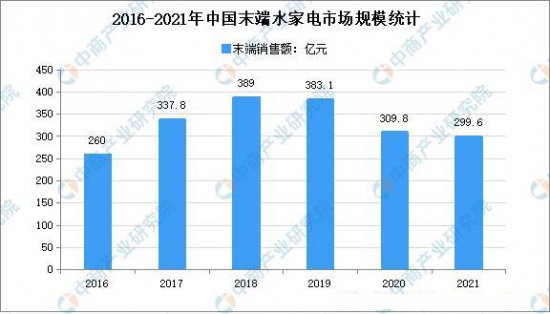 2016-2021 China's terminal water appliances market scale statistics
In 2021, there will be a shift in the sales channels of water appliances, with an obvious trend of shifting from offline to online, and traditional channels will also begin to shift to emerging channels. In 2021, online sales of China's water appliances will account for 46%, and offline sales will account for 54%.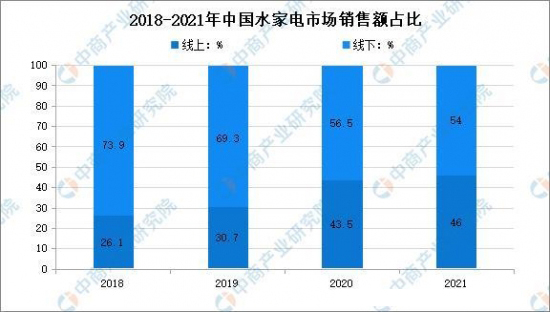 2018-2021 China's water appliance market sales proportion